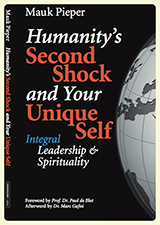 Thank you very much for your interest in "Humanity's Second Shock and your Unique Self".
There are 2 editions of the book you can choose from:
the hardcopy edition
the pdf edition
To purchase your copy of the book please follow the steps below.
---
How to obtain your copy:
Fill out the form below
Check your inbox for a confirmation email
Click on the link in the email to make your (secure) payment
After receivement of your payment a copy of the book will be sent
(NL19INGB0006351432)
---
Order form:
Fout: Contact formulier niet gevonden.