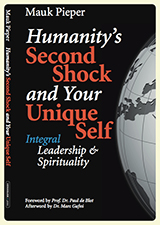 "Every human being meets with pain in his or her life. When we discover this, it shatters our expectations. Our main reaction to this 'First Shock' is avoidance. In our collective life, this avoidance represents the consciousness of the Separate Self or ego.
In trying to impose its will on the unfolding of life, this Separate Self makes things worse rather than better. It may end up destroying the life that has been given to us as human beings, as well as life on Earth in general.
Our waking up to this dilemma is what Mauk Pieper calls our 'Second Shock'. This book urges us to 'rethink' the evolution of our consciousness and offers a glimpse of a new, emerging level of consciousness that is able to process this Second Shock, giving rise to 'realistic hope' for a better world that is in alignment with the evolutionary impulse."
Foreword by Prof. Dr. Paul de Blot
Afterword by Dr. Marc Gafni, autor of  'Your Unique Self'
Zie voor Nederlandse content Blog >>
VIDEO 
– Boekpresentatie van 'Humanity's Second Shock and Your Unique self' >>
Testimonials
I feel honoured by the endorsements of many colleages in the field..